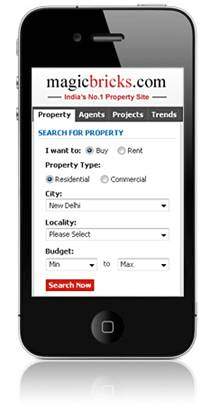 Taking IT Convergence to the next level, MagicBricks.com the leader of the online property space now extends itself to the small screen, introducing India's Fastest Mobile Property Portal – MagicBricks Mobile.
Launching MagicBricks Mobile, Mr. Sudhir Pai, Business Head, MagicBricks.com said "MagicBricks Mobile, is the fastest mobile experience offered by any property portal in this space., with enhanced UI & Navigation, intuitive refine and search options property seekers, can now find their dream home and contact the seller, within seconds from their cell phone."
Now any GPRS enabled mobile user can search for properties to buy or rent based on property type, budget, city, locality, bedrooms and even property owner (individual, broker, builder). They can view details of interesting property listings, all effortlessly from their cell phones – Live from the site.
Users can instantly contact the concerned person by sms or phone call, right from MagicBricks mobile.
The MagicBricks Mobile tabbed browsing interface allows a user to refine results with a single click with results sorted intelligently under different tabs. Users can also see "QonQ" locality-based price-trends, as available through MagicBricks.com massive database of listings.
Speaking of economics, time is money and MagicBricks Mobile is "lightening fast" as no heavy images or animations are used thereby reducing data use to the absolute minimum. In addition, MagicBricks Mobile also stores user search history and contacts they have made in past sessions, for easy recall and follow-up.
To top it all, users can opt for Free SMS Alerts and even send Free SMS to any property owner from the mobile site!
There is no downloading or installation required to use MagicBricks Mobile – just visit www.MagicBricks.com from your GPRS enabled phone, and Experience India's No.1 Mobile Real Estate Portal.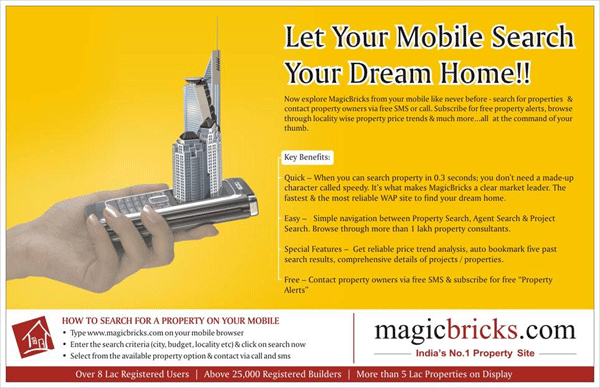 Economy
Allows user to subscribe for property alerts on mobile for FREE.
Allows user to browse locality wise property prices trends.
Only portal which allows auto bookmarking of past searches so that user can directly go to his past searches.
Free sms to the advertiser from the mobile site.
User Friendliness
Increased user friendliness with enhanced user interface for better navigation.
Use of tabs to show results in different categories.
Advance Features
Property search made easy with intelligent sorting and advanced refine options.
Brief and crisp description(in tabular format) of more than 3000 commercial and residential projects pan india.
Search for more than 1 Lakh property consultants dealing in resale properties, new properties and rental properties.
Performance
Amazingly fast page loading – Will work fine even if the internet speed is low.