– 'Mirchi Par Baat Baat Pe Jobs with TimesJobs' will help professionals whose job search has been affected owing to COVID-19 – by connecting them with recruiters who are hiring during these times
– TimesJobs has roped in more than 112 companies and recruiting agencies including well-known brands such as Capgemini, Mastercard, LTI, Salesforce, Société Générale, Icertis, VOIS, UiPath, HPE, DBS Bank among others
– Mirchi's popular RJs – Naved, Sayema, Rochie, Vidit & Leen – will lend their powerful voice and their social media presence to this task over the next few weeks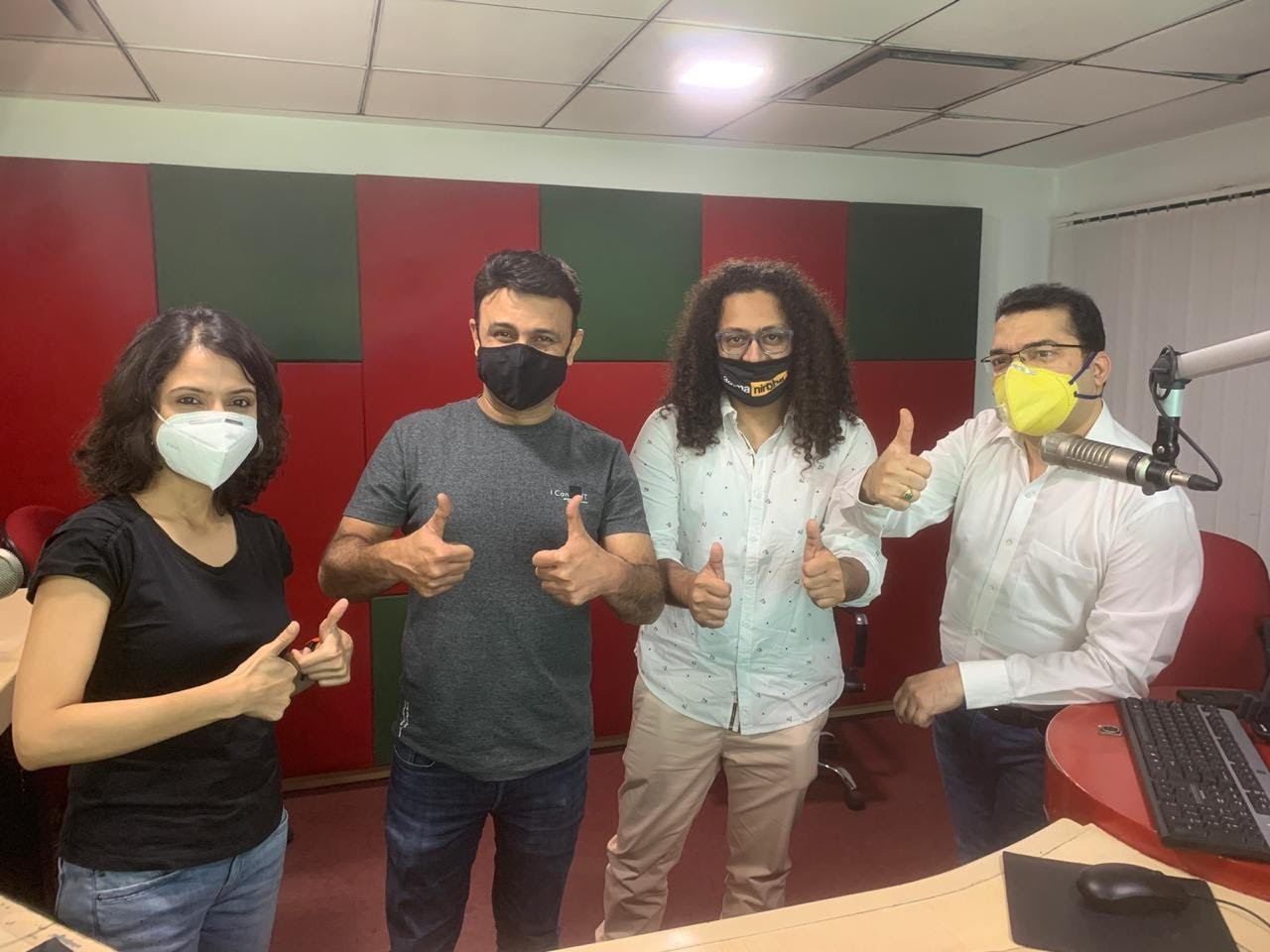 (Caption text: Radio Mirchi Delhi's RJ Sayema, RJ Naved, RJ Vidit and Sanjay Goyal, Business Head, TimesJobs and TechGig at the launch of 'Mirchi Par Baat Baat Pe Jobs with TimesJobs' campaign)
New Delhi, July 16, 2020: The COVID-19 crisis has brought global economies to a standstill, jeopardising careers of lakhs of professionals. In a bid to help those who have been affected professionally by the pandemic, e-recruitment website TimesJobs, and Mirchi re-ignited their CSR initiative 'Ready Steady Jobs' for Season 2 with the title- 'Mirchi Par Baat Baat Pe Jobs with TimesJobs'.
In its maiden season last year, the campaign had shortlisted over 3892 candidates were in just 21 days and finally helped 1,065+ professionals get jobs.
'Mirchi Par Baat Baat Pe Jobs..with TimesJobs!' was launched today and forged partnerships with more than 112 companies and recruiting agencies to facilitate recruitment during this campaign. Some notable companies include Capgemini, Mastercard, LTI, Icertis, VOIS, HPE, Salesforce, DBS Bank, FIS, UiPath among others. The recruiting partners include seasoned recruitment consultancies such as G Gheewala, Global Talent Pool, Lavanya, Placewell Careers, The Real Placements and others.
Mirchi Delhi's RJ Naved, RJ Sayema, RJ Vidit, RJ Rochie and RJ Leen will anchor the campaign on radio, urging people to sign-up and apply for relevant jobs at the campaign page (easy link: https://www.timesjobs.com/mirchi/?source=pr) and update their resumes.
As part of the campaign, industry experts will also share career guidance and tips with candidates on how to make a success of their careers even in these tough times.
Explaining the details about the campaign, Sanjay Goyal, Business Head, TimesJobs & TechGig said, "At TimesJobs, our endeavour has always been to help people find the jobs of their choice. In the COVID-19 crisis, we wanted to rise above our business scope and help professionals cope up with career crisis triggered by COVID-19. We are joined by an equally enthusiastic team at Radio Mirchi Delhi for the campaign. I hope 'Mirchi Par Baat Baat Pe Jobs with TimesJobs!' is as successful as its earlier edition – named, 'ReadySteadyJobs' – where more than 1100 professionals were hired and more than 3800 applicants were shortlisted in just 21 days. All candidates have to do is sign-up at the campaign page free of cost and update their resumes and relevant companies/recruiters will contact them."
Shivangini Jajoria, Regional Director-North & East, Radio Mirchi, said, "Mirchi as a brand is always known for spreading happiness. In these tough times, too, we intend to follow through on this principle by putting forward ideas and campaigns that directly address concerns facing people today. One important crisis being faced by people during this pandemic is a career crisis. Through this campaign we will not only handhold our listeners through various aspects of the pre-recruitment process but also provide them with access to some of the top recruiters. We at Mirchi are excited to drive this with the TimesJobs team and are looking forward to making this a success!
Registration at 'Mirchi Par Baat Baat Pe Jobs..with TimesJobs!' is free at https://www.timesjobs.com/mirchi/?source=pr
__________________________________________________________________________
About TimesJobs:
TimesJobs is India's leading career portal, with a sharp focus on helping companies and businesses connect with competent professionals. With over 25 million registered jobseekers across the board and more than 60 million page views every month, it is the most preferred career portal among the ambitious professionals who want to make smarter career decisions and accelerate their career progression.
About Mirchi:
Entertainment Network India Limited (ENIL), popularly known as Mirchi, owns 73 frequencies and is advertising partner for another 3, across 63 cities in India, making it India's largest private FM radio broadcaster. Launched in 2001, Mirchi now operates across the country with 4 distinct brands – Mirchi, Mirchi Love, Kool & Ishq (for which it is the advertising partner of TV today network). With the highest radio listenership in India (approximately 40 million people- all 4 brands included) and a track record of developing innovative content, Mirchi has been expanding and retaining its audiences and advertisers through the years. Mirchi also has the digital strength of having the biggest radio website, throbbing social media handles & 170 powerful RJs across Facebook, Twitter, Instagram and the biggest YouTube channel called Filmy Mirchi in the independent Bollywood space.