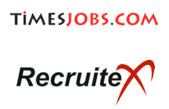 The Indian job market is buoyant again. After seeing a slump for a five month straight, talent demand across sectors jumped by 8% in July 2015, shows RecruiteX, the TimesJobs.com recruitment index.
September 1, 2015: The year 2015 started off with an 11% increase in hiring activity in January. But a slump set in soon after and talent demand saw a drop of nearly 4% between February and June 2015. This gloomy scenario is finally witnessing a much-awaited revival.
"After a five-month slump that impacted job sentiments across sectors, hiring activity is now regenerating again. We have observed this seasonal trend in the job market ever since we launched the RecruiteX report in 2011. The pre-appraisal and appraisal periods are usually slow on hiring since companies take stock and consolidate resources and processes, now that this is over, it is time once again to look for fresh talent to reenergize the organization." says TimesJobs COO Vivek Madhukar.
Logistics and Pharma stand tall among top job generators
The pharmaceutical, healthcare, biotechnology, logistics and warehousing sectors joined the IT & Telecom industries as the top employment generators in July 2015. Talent demand across all these industries have risen by a thumping 10-14% in the month-on-month analysis. BFSI and manufacturing sectors have also reported a substantial 9% rise in talent demand.
· Retail and petrochemicals, oil & gas sectors have seen a 7% rise in demand
· Travel & hospitality also saw a 4% spurt in demand reports the current TimesJobs RecruiteX
Hiring up for media and entertainment professionals
There is good news for entertainment, media & journalism professionals including reporters, editors, anchors, copy editors, cameramen etc. who have seen demand for their skills rise by a whopping 17% in July 2015.
Media sales & business development professionals including Ad Sales Managers, Client Servicing Professionals, Advertising & Marketing Consultants, etc. have risen have also seen a 10% rise in demand according to the latest TimesJobs RecruiteX report.
Demand for IT & telecom professionals, across industries, clocked a 6% rise in demand in the month-on-month analysis.
· Sales & business development profiles posted a 10% rise in demand across all industries
· Marketing & advertising professionals have witnessed a 9% rise in demand
· Customer service, Tele-calling and administration professionals have also registered 8% rise in demand as per the TimesJobs RecruiteX report.
Experience in Demand – Senior talent continues to be in demand
While, demand was up for all professionals with more than two years of experience. But senior professionals, with over 20 years of experience, have seen the highest rise in demand at 13% in July 2015.
· Candidates with 10-20 years of experience posted a 12% rise in demand
· Candidates with 5-10 years experience clocked a 10% rise in demand
· Candidates with 2-5 years experience also saw a 10% rise in demand according to TimesJobs RecruiteX
Bangalore once again tops in hiring activity
Among metros, Bangalore tops the recruitment charts with a massive 16% rise in talent demanded across industries in July 2015. Among top ten towns, Lucknow posted the highest rise in talent demand at a whopping 23%. Among the states, West Bengal topped with a reported 7% rise in hiring activity, according to TimesJobs RecruiteX.
· Pune reported 13% rise in talent demand
· Mumbai posted 11% rise in talent demand
· Delhi NCR saw 5% rise in talent demand
Click here to download the latest RecruiteX Report
About TimesJobs.com:
TimesJobs.com, India's leading career and recruitment portal, is one of the best-selling online ventures of the Times of India Group. Conceived and launched in 2004, TimesJobs.com currently has a candidate database of more than 20 million registered job-seekers across levels and functions who clock-in over 40 million page views a month.
TimesJobs.com is positioning itself as an engagement platform and knowledge resource for insights, information, analysis and opinions on the recruitment market. Well-known for its product innovations and unmatched deliverables, TimesJobs.com has pioneered the platforms of:
– JobBuzz.in for candidate engagement with company reviews and ratings
– TechGig.com as India's leading IT network for careers, coding and competitions
– StepAhead for career assessment and enhancement services
– RecruiteX as the definitive demand and supply recruitment index
– The TJinsite knowledge series and a lot more.
TimesJobs.com serves a corporate customer base of more than 25,000 clients from across the globe. It has been serving clients like HCL, IBM, Yamaha, Godrej, HSBC, Mahindra, Bajaj Allianz, TCS and Thomson Reuters to name a few.