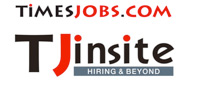 65% Indian companies aim to embrace predictive talent analytics in next one year reveals TJinsite from TimesJobs
August 25, 2015: Predictive Talent Analytics (PTA) are being used to optimize HR functions by predicting employee performance, attrition and cost using Big Data analysis. HR metrics such as turnover rates, cost per hire, time to hire, sourcing channel, open vacancies vs positions filled, offer to acceptance ratios, etc. are some data points that are used in PTA.
"Predictive Talent Analytics is basically the practical application of Big Data tools to HR processes. Globally, HR departments are tapping the potential of PTA to identify high performers, reduce attrition, predict performance, cut costs and improve the company's bottom line. The ability to move from gut-based judgments to data-driven decision-making is what makes PTA the future of HR in India." explains Vivek Madhukar, COO, TimesJobs.com.
But how is HR in Indian companies faring in using PTA and the possibilities of data in predicting how a new hire or a potential candidate will perform? How far up the ladder are they in using predictive models?
A new TJinsite survey from TimesJobs.com across industries revealed interesting results. While 90% of the companies that took part in the survey say predictive analytics is the future of talent hunting, only 7% employ it to find the right hire.
Surprisingly, nearly 55% of all the organizations say they only use this data reactively and not to forecast for future plans. However, 65% plan to employ predictive talent analytics in the next one year the TimesJobs survey revealed. Of the remaining, nearly 18% plan to climb the maturity curve in the next six months while 12% think it will take more than a year to progress to predictive analytics. Only about 5% of the organizations said they have no such plans on the cards in the long run, showed the survey.
IT & Healthcare sectors lead in using analytics
The Indian IT sector has emerged as a pioneer in using data analytics in recruitment in the survey. Over 80% of IT organizations stated they have a robust analytics process in place, finds the TimesJobs study.
Healthcare organizations come next, with 72% of them submitting to widely using HR data analytics in recruitment and engagement of their personnel.
Also, almost 70% representative organizations from the IT, ITeS, BFSI and Healthcare industries plan to make predictive analytics a fundamental aspect of their engagement and recruitment strategies in the next one year, according to the TimesJobs study.
Benefits of tapping data
Over 55% of organizations feel that an effective HR data analytics practice helps secure quality hires and nearly 22% of the respondents think the use of data helps improve recruitment turnaround time.
With changing business dynamics and the accelerating pace of growth and competition, predictive analytics can be a game-changer for successful organizations. As an overwhelming 90% of the surveyed organizations state that predictive analytics is the future of talent hunt.
However, most organizations feel they are still using data analytics on an ad hoc basis. At a recent TimesJobs Boardroom Dialogue, HR leaders conceded to lagging behind in using the full potential of data analytics. They said data analytics were never sought as an expectation from HR. In addition, HR never realized how much data they had that they could tap into for information and insights.
Overall, the HR experts agreed that predictive analytics was a vital tool that can help HR forecast and establish future needs so that the organization has a robust talent pipeline and one's talent hunt is successful every time.
About TimesJobs.com:
TimesJobs.com, India's leading career and recruitment portal, is one of the best-selling online ventures of the Times of India Group. Conceived and launched in 2004, TimesJobs.com currently has a candidate database of more than 20 million registered job-seekers across levels and functions who clock-in over 40 million page views a month.
TimesJobs.com is positioning itself as an engagement platform and knowledge resource for insights, information, analysis and opinions on the recruitment market. Well-known for its product innovations and unmatched deliverables, TimesJobs.com has pioneered the platforms of:
– JobBuzz.in for candidate engagement with company reviews and ratings
– TechGig.com as India's leading IT network for careers, coding and competitions
– StepAhead for career assessment and enhancement services
– RecruiteX as the definitive demand and supply recruitment index
– The TJinsite knowledge series and a lot more.
TimesJobs.com serves a corporate customer base of more than 25,000 clients from across the globe. It has been serving clients like HCL, IBM, Yamaha, Godrej, HSBC, Mahindra, Bajaj Allianz, TCS and Thomson Reuters to name a few.