"Skill the Nation's Workforce": Kapil Sibal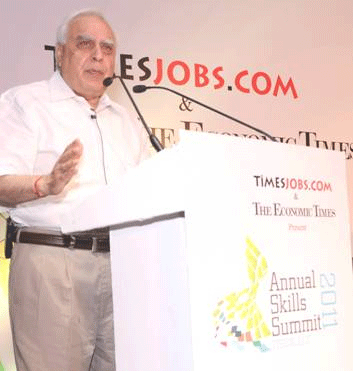 The HR Minister's clarion call at The TimesJobs.com Annual Skills Summit 2011

Speaking at the inaugural session of The TimesJobs.com Annual Skills Summit 2011 Mr. Kapil Sibal, Honourable Union Minister for HRD, Government of India thanked TimesJobs.com for inviting him to the summit and drew the rapt audience's attention to the 'gargantuan task' of solving the problem of skills shortage in the country. He emphasised that this challenge is at the top of his agenda and therein lies a huge opportunity.
The Skill Shortage
The minister explained that there are 40 million children who enter class high school every year despite a 56% dropout rate. With the government's envisioning a zero dropout rate this number is expected to grow exponentially. Mr. Sibal envisaged that by 2022 with India's population at 1.3 billion, the country will need 500 million skilled people and 250 million graduates to sustain double-digit growth.
The Solution
Outlining the roadmap to skill India on behalf of the government he affirmed that skills are marketable only when they are certified. The honourable minister asserted to overcome this skill shortage, development must be integrated with the education system. And while sector specific interventions are laudable, they are not enough.
Mr. Kapil Sibal announced at the venue that the HRD Ministry will be launching National Vocational Qualification Framework in a month's time. And stressed that "the skills development programme needs collaboration with state governments, municipalities, sector skills councils and industry."
THE HRD Minister while reiterating the 'historic' opportunity in skills development that must be utilised, maintained that the nature of skills required by the industry changes dynamically. Hence, academic curricula need to evolve accordingly. He stated that by "global demographics standards, ultimately the engines of global economy are going to be powered by human capital from India."
The Luminary Speakers at the summit included
Vineet Nayar, CEO, HCL Technologies Ltd
Ravi Dhariwal, CEO Publishing, The Times Group
Arun Maira, Member, Planning Commission,
Dr Chandrasekhar Sripada, VP and Head HR India/South Asia, IBM India;
Karan Singh, Executive Director-HR, DMRC,
Jayant Krishna, Principal Consultant, Tata Consultancy Services,
Sushma Rajagopalan, Head-Global Strategy & Corporate Development, L&T Infotech,
Ashutosh Chadha, Director, Corporate Affairs Group, Intel (I),
Sanjay Gupta, Global Head-HR, EXL Service,
Nikhil Rajpal, Partner, Everest Group,
Subrat Chakravarty, Head-HR, HCL Technologies-Business Services,
V Suresh, Principal Executive Officer, HIRCO,
Dr PR Swarup, Director General, CIDC
While appreciating this provocative convention organised by TimesJobs.com, the speakers deliberated on the scope and magnitude of skills gap in the country.
To read more from the country's HRD Minister and the other panellists at the TimesJobs.com Annual Skills Summit 2011, grab your copy of the latest TJinsite issue here – http://bit.ly/lla4od
Also in the newsletter:
– Online job portals and recruitment agencies preferred sources to acquire talent
– Social networking and employee referrals emerging channels to hunt for talent
– 42% of the workforce expects salary appreciations when their organisation grows
– 35% employees consider lack of recognition of work the biggest hindrance to productivity
– Prashant Deo Singh, Head HR & Group Affairs, Panasonic India shares his views on talent acquisition strategies practised at Panasonic
This data-backed research-driven newsletter is part of a monthly initiative started by TimesJobs.com. The newsletter is shared with more than 4 lakh HR professionals pan-India. To get your copy log on to www.research.timesjobs.com