Going beyond the industry standard services of sourcing and screening TimesJobs.com is now offering suitability assessments of jobseekers by adding Harrison Assessment Systems to its Portfolio.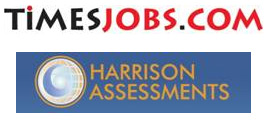 Oct 2012: TimesJobs.com is now the "Official India Partner" for Harrison Assessments and offers a world renowned service that can secure a high-growth and successful career – by judging not just Eligibility but Suitability as well – providing a win-win situation for all to its stakeholders – partnering employers, institutions and jobseekers.
Would anyone like to hire a "creative" accountant? What about hiring a "cautious" salesman? Or an "aggressive" HR Manager? The commonsensical answers to these questions would be – NO. While such people may well be eligible with all the right degrees, experience and certifications, they will definitely not be suitable!
Job Specific Assessments
These rather extreme examples serve to bring to light the impact of eligibility and suitability to job performance & job specific assessment – which directly impact the organisation's performance.
Eligibility can be judged on the basis of a resume and includes specific skills, previous work experience, educational qualifications, training & certifications, etc.
Suitability on the other hand, deals with attitudes and behavioural traits such as leadership, decision-making, interpersonal skills, initiative, values, ethics, personal interests, culture and organizational compatibility. Lack of suitability can contribute to very negative employee conditions, even in the best of work environments. It results in lower turnover, customer dissatisfaction and lost business opportunities.
To enhance customer delight and value, TimesJobs is now offering services that go beyond the basic "Sourcing and Screening" business model. Moving up the value chain, TimesJobs.com is forward integrating its product & service offerings to provide job-specific assessments for jobseekers by supplying Harrison Assessment Solutions.
Dr. Dan Harrison, Founder CEO, Harrison Assessments commented, "We are very pleased to have formed an alliance with TimesJobs and have appointed them as our Official India Partner to develop our portfolio in India. This agreement provides immediate value to all stakeholders by leveraging HA's trusted and accurate employee assessment tools to serve TimesJobs' considerable client and user base."
"While suitability is the foundation for success in almost every work-related position, it is a sad fact that it is one of the most under-assessed areas of competency. And the main reason is the lack of access to a quick yet accurate assessment system – which is precisely what TimesJobs will provide in alliance with Harrison Assessments (HA)." says Amit Jain, Business Head, TimesJobs.com.
"This unparalleled alliance will open out a whole new horizon, for all stakeholders as it provides quick, comprehensive and direct answers to the questions of employability, competency, acumen and ability" explains Jain.
A successful fit of both employer and employee leads to the success of the organisation and a successful career. To ensure the success of a person in a particular job – an accurate and objective assessment of his behaviour traits that are directly related to his job performance becomes a necessity.
This alliance will provide corporate and institution solutions that not just help in Recruitments and Placements but can also be used for Leadership Development, Team Development, Identifying High Potentials, Succession Planning, Career Development and Executive Coaching.
Jobseekers will also gain objective insights into their own career options. They can assess career direction, with details as specific as the Specific Industries and Jobs that they are suitable for – on the basis of their individual, objectively-assessed, traits and abilities.
Speaking about the efficacy of HA Solutions, Dr. Dan Harrison, Founder CEO, Harrison Assessments states, "Research studies have consistently revealed 85% accuracy in predicting performance of individuals, when HA tests are properly administered. When combined with eligibility testing and behavioural interviews the reliability exceeds 90%. There are over 150 traits to select from and assess for within this system to determine the behavioural requirements for a position. This wide range of traits are employed to accurately measure only those traits that actually correlate to success for the given position."
Please contact maneesh.mehrotra@timesgroup.com at +919560404400 for more details of how this solution can benefit you – today!