National, March 15, 2022: The average annual appraisal for developers in the year 2022 will be in 8-10% range with the front-end developers taking home the highest increment, found a recent TechGig survey. TechGig – India's largest developer community of 4.2 million technologists – surveyed 1,174 Indian tech recruiters to understand their preferences amid the ongoing annual appraisals.
Top findings of the TechGig Developers' Appraisals Survey 2022:
Appraisal range: Most firms will offer an average appraisal between 8-10%
Tech specialisations: Front-end developers (26% votes) will get the best appraisals
Programming language: Python developers (27% votes) will fetch the best appraisals
New-age skills: Machine Learning developers (37% votes) will get the best appraisals
Appraisal criterion: Team work (26% votes), followed by excellence in tasks (23% votes) will be the essential appraisal criterion
Management level: Mid-level (5-10 years of experience) and freshers/new joinees (0-2 years of experience) will get the best appraisals (28% votes each)
Elaborating on the findings of TechGig Developers' Appraisals Survey 2022, Sanjay Goyal, Business Head, TechGig said, "We are living in an age of disruption, and this is true in the case of careers too. Developers who know or are learning new-age technologies and are proficient in dominant programming languages will bag hefty annual increments. This trend is evident from our survey findings where most recruiters said that Machine Learning developers (37%), followed by Artificial Intelligence developers (27%) will get the best appraisals. Similarly, front-end developers (26%), followed by full-stack developers (18%) will get the highest salary hike."
Here are the main survey outcomes:
India Inc. to offer 8-10% average salary hike to developers, at par with pre-COVID level
The TechGig survey asked about the average salary hike planned for developers, and most respondents said they would offer 8-10% increment. Industry acclaimed remuneration surveys have earlier stated that the average salary hike in IT in 2019 was close to 8%. The prediction for 8-10% hike in 2022 is clearly a mark above than the pre-COVID-19 increment. The TechGig survey verified independently if this hike would be at par with the pre-COVID-19 level and most (68%) agreed with it.
Front-end developers to get highest appraisals, full stack developers follow
The TechGig survey asked the respondents about the tech specialisations that will get the highest annual increments and most (26% voted) for front-end developers. The rapid digitalisation has made them much sought-after professionals. After this, the recruiters would prefer full-stack developers (18%) and software developers (15%).
Here are the complete responses: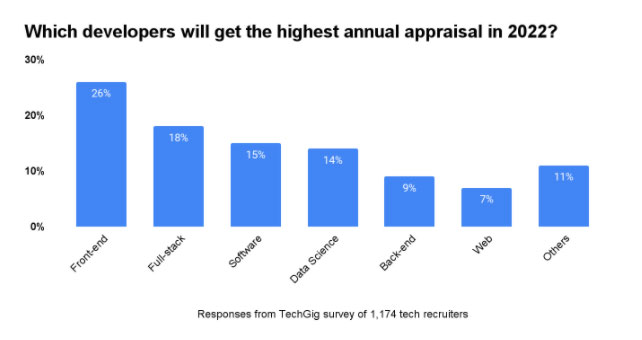 Knowledge of Python, followed by Java will get the best appraisals
The TechGig survey asked about the programming languages that fetch the top appraisals. This is a million dollar question in today's time since all developers rue about the language to learn next. Most respondents voted for the good old Python (27%), followed by ever popular Java (21%) and JavaScript (18%). Here are the complete responses: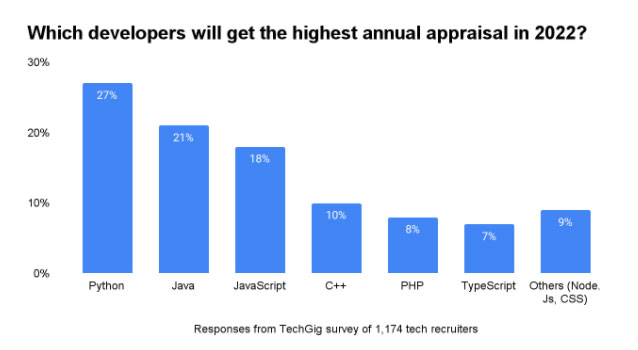 Machine Learning pros will get best salary hikes, followed by AI specialists
Upskilling is the name of the game in the IT domain where newer technologies emerge every few months. The TechGig survey asked about the new-age specialisations that will fetch highest appraisals and Machine Learning was voted by most at 37%. This was followed by Artifical Intelligence 27% and Cloud Computing 23%.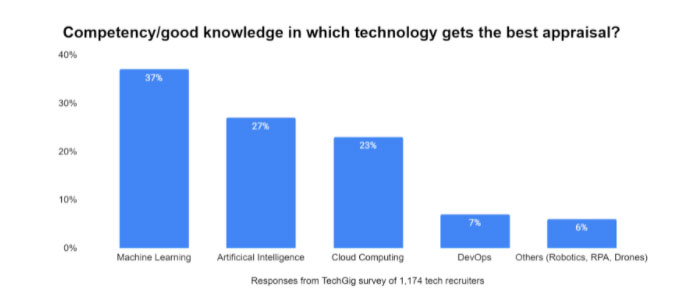 _______________________________________________________________________________________________________________
About TechGig:
TechGig is a division of Times Internet Limited, India's largest digital products company. TechGig is a young and enthusiastic technology company, offering cutting-edge solutions to its clients using innovative technologies. We help our business partners realise their true talent and business potential using our specialised skill assessment, community engagement and recruitment solutions.