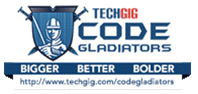 Hina Bhatia of Sopra Steria won the first-ever Code Diva title at TechGig Code Gladiators 2015 contest
June 30, 2015: Coding comes naturally to Hina Bhatia, the winner of the first-ever Code Diva title at the TechGig Code Gladiators contest. Bhatia, a mathematics graduate from Delhi University and a computer science major from Chennai Mathematical Institute, was among the top 100 Finalists who fought hard to win the coveted titles of India's best coders at the Code Gladiators grand finale held in New Delhi recently.
Bhatia, a Development Team Leader at Sopra Steria India, was among the top 10 women coders who had made it to the finale.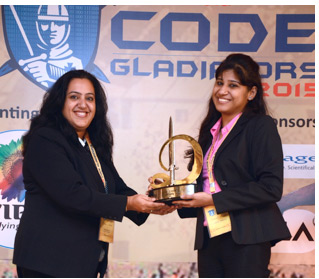 Ritu Mehta, Director-Engineering, Pitney Bowes presented Hina Bhatia the TechGig Code Diva Award, Trophy and Cash Prize
Speaking to TechGig.com after winning the Code Diva title, Bhatia said it felt great to be recognized on a platform like Code Gladiators. So is coding different for men and women coders? "I don't think there's any difference in coding based on gender. But yes, there are fewer women coders in comparison to men coders in the IT industry," she said.
Bhatia said the idea of introducing the Code Diva title at a national-level platform such as Code Gladiators would motivate more women coders to participate and encourage more women planning to pick coding as a career.
"I'm glad TechGig introduced the Code Diva award," she said with a big smile on her face. Bhatia, who choose Java as her preferred coding language at Code Gladiators, said the first problem in the finale was easy to crack. But the second problem was a real challenge, "I couldn't solve all 10 case problems due to time constraints. But the learning was great!" she quipped.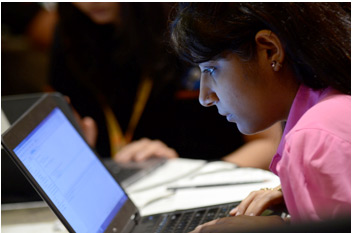 She also had a word of advice for other coders. "The basic thing to be a successful coder is the approach, intellectual thinking and understanding of the question or problem you are working on." Language is also important though this is something one can learn, but intellectual thinking is something one has to imbibe; it comes from practice, Bhatia said.
Bhatia also felt one should keep participating in such competitive coding contests to refresh one's mind, challenge one's intellect and benchmark one's skills.
Bhatia's company Sopra Steria also won the award for second best IT company in India. As the competition also saw the rise of the top five IT companies – Persistent Systems (first), Sopra Steria (second), IRIS Software (third), ITC Infotech (fourth) and Amadeus South Asia (fifth).
Over 80,000 coders from across 9,000 top IT companies took part in TechGig Code Gladiators 2015. Displaying their coding prowess, these coders were the "gladiators" of the tournament and had a big choice of "weapons" to choose from and "battle" with. The 10 weapons of choice were the programming languages of Java, C, C++, C#, PHP, Java Script, Python, Perl, Ruby and VB.net.
About Code Gladiators:
TechGig has been a pioneer in ranking and rating The Best Programmers and The Best IT Companies across India – through technology related competitions for internal employees, company-sponsored contests for talent engagement and various employer-branding activities. Code Gladiators combines all these activities and takes the scale to an entirely different level – one where employees from companies across India are involved at the same time. Code Gladiators is a corporate battle – the best talent from IT companies will battle it out to a fight to the finish. This National Level competition showcases the company with the best coders and identifies the Best Coder in the Country.
About TechGig.com:
TechGig.com is a culmination of everything related to technology, a platform exclusively for IT professionals to synergize, share, exchange ideas, facts and information as well as showcase their work and express their views on the vast repertoire that the IT industry encompasses. Garnering cutting edge views, reviews and news, jobs as well as providing a podium for connecting with your colleagues, peers are the mainstay of TechGig.com. The TechGig network is operated by Times Business Solutions – a Division of Times Internet Ltd.