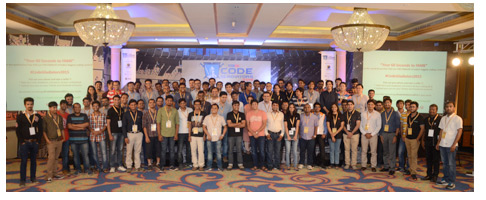 With 100 Finalists battling over 80,000 coders from 9,000 IT companies, TechGig Code Gladiators 2015 has not only become India's largest coding contest but also the most diversified.
Displaying their coding prowess, the contestants were the "gladiators" of this tournament and had a big choice of "weapons" to chose from and do "battle" with. The 10 weapons of choice were the programming languages of Java, C, C++, C#, PHP, Java Script, Python, Perl, Ruby and VB.net.
Initial online rounds culminated in the top 100 coders battling it out face-to-face in the grand finale to win coveted titles and prize money of Rs 6 lakhs. And at the finale, when India got its five best coders, Java emerged as the most popular coding language among the top coders.
Apurv Gupta from Oracle (the winner), Surender Godara from SapientNitro (first runner-up), Victor Hoh from AWPL (second runner-up), Ankit Vij from Cvent India Pvt Ltd (fourth runner-up) and Hina Bhatia from Steria (TechGig Code Diva and best women coder) – all chose Java as their preferred language to sail through the contest.
"One thing all skilled coders agree on is that they love familiarity. When it's time to write for heavyweight and scalable enterprise applications, techies reach for their most comfortable tool. Thanks to years of unrelenting backward compatibility, Java is that tool." says Vivek Madhukar, COO, TimesJobs.com
Speaking to TechGig after the finale, Surender Godara from SapientNitro said that for the first two virtual rounds, he was coding in C language but the final problems were so tough he had to switch to Java.
Only the third runner-up, Sonu Singal from Algoworks Technologies, was the lone winner to code in C# (C sharp) in the grand finale of Code Gladiators.
Similar to the 2014 edition of TechGig Code Gladiators, majority of the participants of this year's contest too coded in Java, followed by C# and C/C++. Coders this year also turned to trending languages such as Python and Ruby.
The competition also saw the rise of the top five IT companies – Persistent Systems (first), Steria (second), IRIS Software (third), ITC Infotech (fourth) and Amadeus South Asia (fifth).
In terms of User Engagement & Traffic metrics – the 2015 Edition of TechGig Code Gladiators racked up a record breaking –
> 100 Million+ Impressions
> 8 Million+ Users
> 1.5 Million+ Views
> 500K+ Visits
> 3.4 Million+ Twitter Impressions
> 250K+ Facebook Impressions
Stay Tuned for a lot more! http://www.techgig.com/codegladiators
About Code Gladiators:
TechGig has been a pioneer in ranking and rating The Best Programmers and The Best IT Companies across India – through technology related competitions for internal employees, company-sponsored contests for talent engagement and various employer-branding activities. Code Gladiators combines all these activities and takes the scale to an entirely different level – one where employees from companies across India are involved at the same time. Code Gladiators is a corporate battle – the best talent from IT companies will battle it out to a fight to the finish. This National Level competition showcases the company with the best coders and identifies the Best Coder in the Country.
About TechGig.com:
TechGig.com is a culmination of everything related to technology, a platform exclusively for IT professionals to synergize, share, exchange ideas, facts and information as well as showcase their work and express their views on the vast repertoire that the IT industry encompasses. Garnering cutting edge views, reviews and news, jobs as well as providing a podium for connecting with your colleagues, peers are the mainstay of TechGig.com. The TechGig network is operated by Times Business Solutions – a Division of Times Internet Ltd.