SimplyMarry.com
SimplyMarry: India's only metro-monial site
SimplyMarry.com was launched in December 2006 with the mission of bringing together soul-mates in today's fast-paced world, where time is at a premium and many single people cannot really treasure going from place to place to meet potential life-partners. SimplyMarry.com was successfully able to provide them with a convenient and easy to use interface, by which they could search and seek out their soul-mates, with a click of the mouse.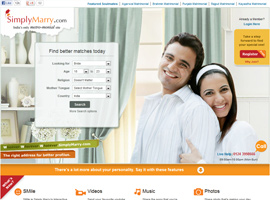 A highly interactive site with intuitive and fast searches, simple registration, and chat process continues to be India's first "Metro-monial" website, targeted at the youth in metros, and all communication geared towards the end-user (and not the influencer) with youthful, lively and playful campaigns, speaking directly to the prospective life-partners in an uncomplicated and transparent method, and not just their parents or families.
Truly living the image of most interactive matrimony site, SimplyMarry has now been upgraded with even more interactive and engaging features. To understand a match better, a person can do more than just expressing interest in a profile. A person can now share with potential matches his/her favourite music, YouTube videos, photos and even LinkedIn and facebook profile information. The idea is centered at empowering users to interact more and understand a profile better right through their matrimonial profile at SimplyMarry.com.
The impact has been tremendous, SimplyMarry.com is not only noticed and talked about, but has also translated into tremendous growth in traffic and actual registrations reaching 2 million, of which, 5 Lakh are active life-partner seekers at any point in time.
Akin to TimesJobs.com pioneering job-fairs, SimplyMarry.com pioneered "Swyamvars". Swyamvars are ground events for the online community where prospective brides and grooms along with their families come to meet and interact directly with each other and their families, to identify their life partners. The process of interaction is facilitated by SimplyMarry.com. Swyamvars have helped many prospective brides and grooms to find their life partner in just a couple of hours. The prospective brides and grooms are always accompanied by their parents or siblings at these events, and everyone who attends Swyamvars praises not only the concept but also goes back satisfied with the whole experience and the services rendered to them.
SimplyMarry.com has organized numerous Swyamvars across the Nation. Counting on the facts and figures, SimplyMarry is not just a commendable offline medium for prospective brides and grooms to meet and interact but also, the right address for better profiles.