HappyKeys.com
The year 2014 marks the launch of HappyKeys.com, an initiative by Times Business Solutions Ltd. that offers complete realty solutions for homebuyers as well as investors buying property in India (Currently covering only Delhi NCR in the Beta Launch). Launched with the aim of offering homebuyers "the joy of buying a home", HappyKeys.com brings personalized real estate services that are built on the solid foundations of Transparency and Trust.
After thoroughly assessing the real estate buying process which is full of hassles and distrust,there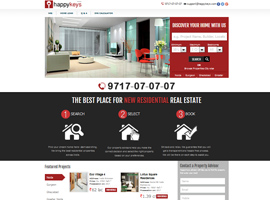 was identified a dire need to increase the happiness quotient as well as trust in the overall experience of buying a home. Therefore, HappyKeys.com aims at bringing the element of happiness and trust back into real estate transactions, offering an experience which today's time-constrained homebuyers would appreciate.
HappyKeys.com offers unmatched services to those who wish to buy property in Delhi NCR. The services range from searching and selecting to booking and possession of the ideal property as per individual needs and preferences. Throughout the entire process, interested buyers avail personalized services like customized search and the support of dedicated property advisors who are always just a phone call away; which makes HappyKeys.com the most trustworthy real estate solutions provider in the otherwise turbulent realty market, where trust deficit is a major deterrent in property transactions.
As HappyKeys.com conveys it: "We are real estate advisors, not real estate brokers."
"The journey is often more fun than the destination itself", they say. HappyKeys.com applies this to real estate by adding joy to the entire experience of real estate transactions, which can be quite grueling for investors. Enabling this is a team of seasoned professionals at HappyKeys.com who understand the needs of the modern-day homebuyer – trust, transparency and timeliness. From carefully compiling a list of options to choose from, selecting the right project and arranging site visits, documentation, booking to handing over the keys at the time of possession, HappyKeys.com assures uninterrupted support to investors.
Experience HappyKeys.com, and experience the joy of buying your dream home.